Notizie
22nd Taiwan Excellence Awards Unveiled
MSI Gloriously Honored with 13 Awards
Ultimo aggiornamento: Wed, 25 Dec 2013
Taipei — The much-anticipated 22nd Taiwan Excellence Awards were finally unveiled. A leader of PC hardware and integrated solutions, MSI once again receives the honor. 13 of its products are awarded covering compact gaming motherboard, ultrathin high-performance laptop, "Flicker-Free" gaming All-In-One PC, etc. MSI instills new value into its products by innovatively integrating eSports concepts with aesthetics while enhancing user experience and eco design. For all MSI's efforts and achievements, 16 consecutive years of honor is absolutely well-deserved.

Commissioned by the ROC Ministry of Economic Affairs' Bureau of Foreign Trade, Taiwan Excellence Awards are organized by Taiwan External Trade Development Council (TAITRA) and seriously filtered by a panel of 91 scholars, government officials and industry professionals. As it turns out, Taiwan Excellence today is not only the highest accolade awarded to products that demonstrate excellence in R&D, design, quality and marketing, but also a benchmark for innovation and global competitiveness. 13 MSI products are awarded from a selection of 1,281 entries. All of them bring the innovative spirit of Taiwan Excellence to the world spotlight.

This year, a total of MSI products are awarded and cover virtually every product line, including the Z87M GAMING mATX motherboard, the GK-601 Dragon Edition mechanical gaming keyboard, the ultrathin high-performance GS70 laptop, the GT60 3K Edition laptop with 3K WQHD+ resolution, the high-end N780 Lightning graphics card, the AG2712A "Flicker-Free" gaming All-In-One PC and the Adora24 ultra-slim All-In-One PC. Noteworthily, most awarded products are specifically designed for gamers. Among them, the GS70 and the AG2712A are prestigious CES Innovations 2014 honorees. All the glory has made MSI a distinguished Taiwan Excellence brand in global gaming.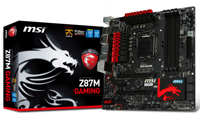 Gaming Aesthetics Going Mainstream
Ultimate Gaming Solutions Revealed

Z87M GAMING mATX Motherboard, Infinite Potential for Compact Game Hosts
MSI, one of the world leaders in motherboards, debuts its first Intel 8-chip set based mATX gaming motherboards- Z87M GAMING. Inherited with the outstanding DNA of MSI's GAMING product family, the new mATX GAMING features a Killer network, Audio Boost sound enhancement technology, and a whole new software and hardware design for enhanced product performance. The sound effect circuit is specifically isolated from other motherboard components for purer sounds with reduced noise. The USB audio power design which powers the USB port independently offers more stable power and audio signals. MSI's Z87M GAMING enriches compact game hosts with more diversified and flexible application potential and options.

Built on the popular Cherry MX Red linear switches, the GK-601 Dragon Edition mechanical keyboard is specifically designed for gamers with unique LED backlit keys and multiple keyboard macro sets to deliver the best gaming experience.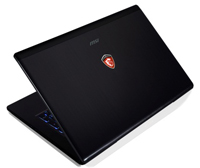 GS70 Stealth, The Thinnest Gaming Laptop Ever
The GS70, the world's thinnest and lightest 17-inch portable gaming powerhouse tackles the most demanding games with the portability required to take battles on the road. It features a lethal arsenal of cutting-edge components, including the latest 4th generation Intel Core i7 processor, NVIDIA GeForce GTX 765M GPU, Killer DoubleShot network adaptor and a SteelSeries full color backlit keyboard with Anti-Ghosting keys. In addition, it comes equipped with Super RAID technology for lightning fast read and write speeds and the ability to connect up to 3 independent external monitors with the Matrix Display feature. The GS70 also showcases the latest ultra-thin and light brush aluminum chassis, measuring less than 1-inch thick and weighing only 5.7 lbs.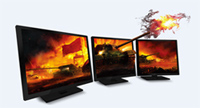 GT60 3K Edition, World's First Gaming Laptop with 3K UHD & Triple Display
The GT60 3K Edition incorporates the 4th Gen Intel Core i7 processor and NVIDIA GeForce GTX770M graphics with 3GB GDDR5 VRAM. It's the world's first to employ 3K WQHD+ (2880X1620) display at a near retina resolution. Its unprecedented, ultra-fine video performance is indeed a visual revolution for gaming laptops. In addition, the GT60 3K Edition comes with Super RAID 2 technology to provide up to 1500MB/s ultra-high read and write speeds. Plus, the exclusive Cooler Boost 2 system enhances cooling efficiency over 15% and reduces system and fan noise up to 25%.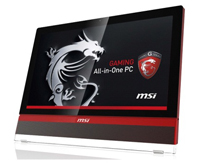 AG2712A Gaming All-in-One PC, Your Eye Guardian
The world's first "Flicker-Free" gaming All-In-One PC, MSI AG2712A, combines the firepower needed to challenge the latest games with a 27-inch Full HD touchscreen. MSI's Flicker-Free technology stabilizes power consumption in the AG2712A, preventing flickering invisible to the naked eye and reducing eyestrain. Designed for stylish gamers, the AIO awes users with its sleek look and barrage of gaming components, including an Intel Core i7 processor, 10-point Full HD touchscreen, AMD Radeon HD 8970M graphics and more. The AG2712A also comes with THX TruStudio Pro and supports additional monitors to create an even more immersive gaming experience.