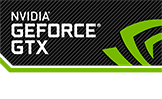 FORGIA LA TUA ARMA
PER UN PERIODO DI TEMPO LIMITATO, ACQUISTA UNA SCHEDA VIDEO MSI GEFORCE® GTX 1080 Ti / 1080 OPPURE UN NOTEBOOK / DESKTOP CON LA GEFORCE® GTX 1080 E OTTERRAI MIDDLE-EARTH:SHADOW OF WAR GRATUITAMENTE*.
DATA DELLA PROMOZIONE
DAL 26 SETTEMBRE AL 18 OTTOBRE 2017,
O FINO ESAURIMENTO SCORTE
SCADENZA CODICE DI GIOCO
4 GENNAIO 2018'
Forgia un nuovo anello di potenza e domina Mordor con la serie GeForce GTX 10. Queste incredibili schede video, PC desktop e notebook assicurano un nuovo livello di prestazioni per il 4K, HDR ed una immersiva esperienza come NVIDIA Ansel™. Tutto è potenziato da NVIDIA Pascal™—la più avanzata architettura GPU gaming mai creata. Porta a casa Middle-earth: Shadow of War acquistando una schda video MSI GeForce® GTX 1080 Ti oppure 1080 o un notebook / desktop con queste schede video.
Prova Middle-Earth: Shadow of War come mai visto fin ora e fotografa i migliori momenti con Ansel.**
To be eligible, consumers must purchase selected MSI GeForce® GTX 1080 Ti / 1080 Graphics cards or GeForce® GTX 1080 Notebooks from 13th June to 27th June 2017 from an authorized and participating MSI retailer/reseller within APAC ONLY. (Malaysia, Singapore, Vietnam, Indonesia, Philippines, Thailand, Australia, New Zealand, Taiwan, Hong Kong).
2. Register your newly purchased MSI Graphic Card or Notebooks through the following steps.
3. If you are experiencing any issues and having any problems, please contact here.

Game Ready with the unbeatable power and efficiency of GeForce® GTX 10 Series GPUs.